Reflections team present their research at University of Essex seminar, 5 May 2021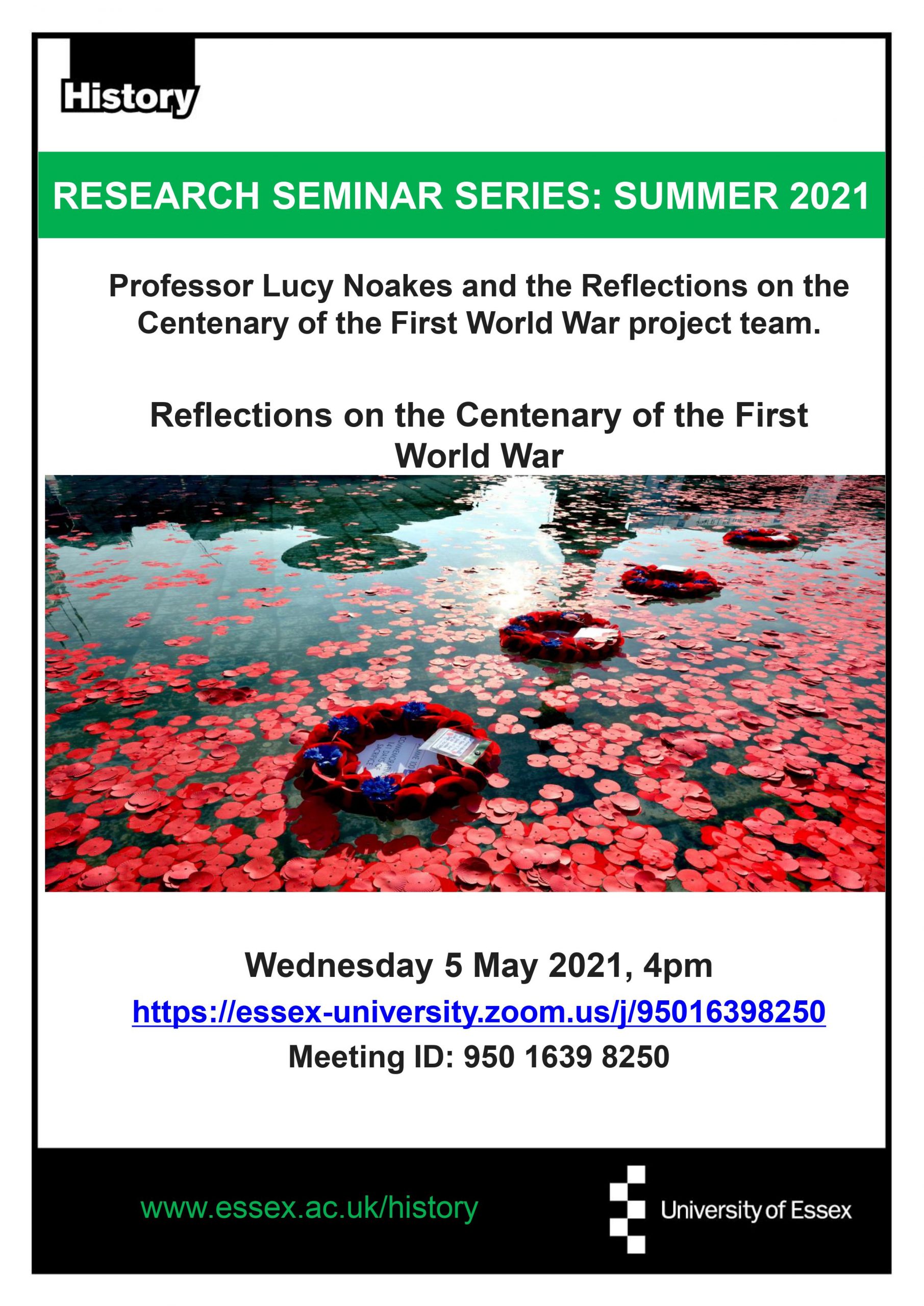 On Wednesday 5 May 2021 at 4pm, members of the Reflections team presented some of their research as part of the University of Essex History Research Seminar Series, Summer 2021. Professor Lucy Noakes, Dr Emma Hanna, Professor Lorna Hughes, Professor Catriona Pennell and Dr James Wallis discussed various aspects of the Centenary of the First World War. You can watch the seminar via YouTube (above).
PDF versions of each of the presentations (in order of schedule) can be found here:
Prof. Lucy Noakes: 'Reflections on the Centenary of the First World War'
Dr James Wallis: 'Locality and the Centenary'
Prof. Catriona Pennell: 'Diversity, "hidden histories", and the Centenary of the First World War'
Dr Emma Hanna: 'Reflections on the Centenary: Media, Arts & Performance'
Prof. Lorna Hughes: 'The Centenary's Digital Legacy'
Capturing Commemoration Symposium Report now available to download
In October 2018 the Reflections project team convened a symposium at the National Archives London that bought together representatives of a range of national organisations to reflect on  the 'impact' of centenary activities, and to consider the best methods to evaluate this, and to share findings.  The Capturing Commemoration Report written by Dr James Wallis is now available to download here.57551_Capturing Commemoration Symposium Report.
First World War Centenary: some reflections
Lucy Noakes recently contributed an overview of the centenary in Britain to the free 1914-1918 Online Enclyclopedia, a wonderful resource for anyone interested in the war, created by the Free University of Berlin. To read it, and to link to articles discussing the centenary elsewhere, follow this link: https://encyclopedia.1914-1918-online.net/article/centenary_united_kingdom
We Want Your First World War Projects!
The University of Essex library archives are collecting material produced by the many HLF funded projects that ran during the Centenary. If you were part of a project, and have copies of any of the material that you produced – for example, books, booklets, leaflets, postcards, badges, maps, CDs and DVDs – that could become part of this collection, they would be happy to receive it. All donations will be catalogued and made available to researchers and visitors to the archives, with some of the smaller items digitised so they can be viewed online.
This is a great opportunity to ensure that as much as possible of the many hundreds of creative and informative projects are preserved in one place for future researchers. Please send any donations to;
Nigel Cochrane
Assistant Director (Academic and Research Services)
Library Service
Albert Sloman Library
University of Essex
Wivenhoe Park
Colchester
Essex
CO4 3SQ
The Centenary of the Cenotaph: the UK's Most Famous War Memorial, August 2019

Project PI, Professor Lucy Noakes, recently joined English Heritage for a podcast to discuss the centenary of the unveiling of the original Cenotaph memorial in London. Lucy was joined by senior properties historian Dr Steven Brindle to discover its story. Listen here to find out how and why this famous First World War memorial was created for the Peace Day celebrations of 19 July 1919 and how it has come to inspire the designs of other memorials to conflict all over the world.
The Unremembered: The British Story – Call for research volunteers, June 2018

Big Ideas is searching for six researchers across the UK to research the largely unknown stories of British Labour Corps. This project invites researchers to unearth the compelling stories of the British Labour Corps in their locality. This research will be used in a bespoke resource shared in 2018, as well as inspiring community groups across the UK to participate in community commemoration projects this year. Deadline for research is Monday 18 July. This is part of The Unremembered: World War One's Army of Workers programme, led by Big Ideas and funded by MHCLG and a National Lottery grant from the Big Lottery Fund. If you are interested in this research opportunity, please contact Sarah Giles (
sarah.giles@big-ideas.org
) by close of play Tuesday 19 June. Sarah can share a more detailed brief with you.
National 'reflections' survey launched, 11 November 2017
One of the main methodologies of our project to capture what members of the public think about the way Britain has commemorated the First World War centenary is a national online survey. We are asking anyone who has either led a project, volunteered on a project, or simply been an observer/audience member of a project that has marked the centenary of the war to complete the survey (accessible by clicking here). It will take between 20-30 minutes to complete and is available in paper copy if requested (by contacting the project lead, Lucy Noakes at L.Noakes@essex.ac.uk) The launch was accompanied by national and regional coverage via the university web pages of Essex, Exeter and Kent as well as BBC Radio Cornwall, BBC Radio Devon and BBC Radio Kent. Have your say!
First 'reflective' workshop, 13 September 2017
On 13 September, the 'Reflections on the Centenary' team hosted the first of a series of reflective workshops at the University of Kent, Canterbury in association with the Gateways to the First World War public engagement centre. It was attended by a number of representatives of community-led heritage projects, including Screen South: 100 Miles for 100 Years and the King's Theatre Portsmouth: Theatre at War. The keynote address was delivered by Professor Sarah Lloyd from the University of Hertfordshire on the subject of 'Learning from the Centenary'. You can read more about the day via our blog or by clicking here.